Back To Menu
Big Country
Flash fried chicken breast, applewood smoked bacon, melted cheddar, Ranch, green leaf, tomato, pickle on a Brioche bun with Fresh Cut Fries
Toss it in Wing Sauce!
+$1
Have you tried this item? Pop it!
Help other diners know what to expect by sharing your experience.
6 people have popped this item
Photo Gallery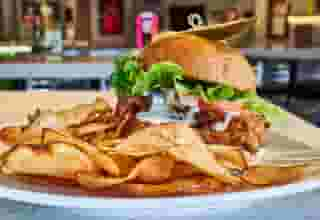 Back To Menu
Big Country
Flash fried chicken breast, applewood smoked bacon, melted cheddar, Ranch, green leaf, tomato, pickle on a Brioche bun with Fresh Cut Fries
Toss it in Wing Sauce!
+$1
  Back To Menu